The Magnificent Travelling Palace: A 3D Storybook Worth a Download
Have you ever wanted to travel the world, meet new people and visit exciting places when you were little? Planetree Family Productions has cleverly used technology to bring the enchanting world of India to the iPad. Let your kids' imagination run wild as each interactive (and sometimes animated) page of the 3D storybook comes to life.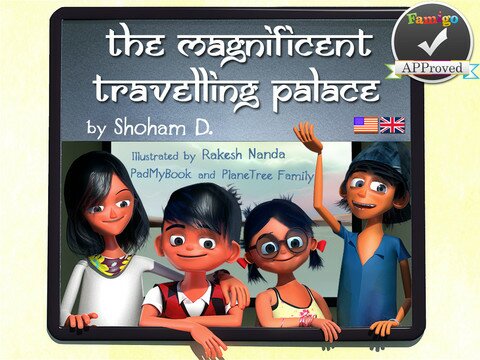 A 3D Storybook That Introduces the Many Wonders of India
The literary genre Magical Realism (the Magnificent Travelling Palace itself is reminiscent of the great Salman Rushdie's epic Midnight's Children) is taken to new heights with a mobile platform to make things more exciting for kids. With the catchy title, unique storyline, alluring animation and delightful soundtrack; The Magnificent Travelling Palace is just one terrific storybook that will engross youngsters over and over again.
Unique Storyline
The woman behind the app, Shoham Drori, first drafted the story long before the smartphone and tablet revolution. While on a long train ride in northern India, she was inpired to concoct an amazing story to express her love for the country. When her first son was born, she was overcome with the urge to be able to tell her son about the many wonders of India. She needed to find a way to teach him about the varied cultures and societies in the world. She found the iPad to be the ideal platform for teaching her son everything.
Indeed, a mother's heartfelt ambition makes the The Magnificent Travelling Palace more of an amazing read for the whole family. 2012 TASI Viewers Choice award winner, Rakesh Nanda, helped Shoham Drori with her vision and built a 3D world that kids will love.
Authentic and Endearing Scenes
To create an authentic digital world of India, the app showcases plenty of details unique only to the Asian country. Spices abound, and even a cool dessert recipe has been included!
Interactive Book
Children will find the app a thoroughly enjoyable read. The app even allows its user to move their tablets and swipe their finger on the screen to further enjoy the whole story. Through the app's various voices, sounds, interactive features, and animation; children will be able to experience the magical world of The Magnificent Travelling Palace with most of their senses.
"All aboard the Magnificent Travelling Palace!"
Swipe to the left to see the other side of the room;
 tap the sitar to listen to its beautiful music.
Final Thoughts
The Magnificent Travelling Palace intricately weaves a mesmerizing tale where reality is infused with fantasy. The app cleverly introduces India's rich culture to young, curious minds.
What are you waiting for? The storybook's protagonists–Rajeev, Lalita, Tushar and Deepika–are waiting for you to join them.
.
Elijah Monroe
Elijah Monroe has been dabbling in SEO writing and social media management for several years now. He loves tech and travel and combining both is always awesome.
Latest posts by Elijah Monroe (see all)