App Review: Paper Galaxy
Walking through the streets at night with all the hushed tones of television and a few flickering Christmas lights here and there, I never fail to look up at the sky and spot the moon. Sometimes I look at it far too long but a quick glance is just as swell. Maybe it's the excitement of the season that makes me crave for some calm to embrace me… And what more appropriate element to give that to my stressed self other than the moon? It makes me wonder if there are other souls like me, who cringe at the sight of the night sky full of dark clouds that deter my ability to do a stare down with our lone satellite. The moon is depicted to be a sign of the macabre, the time where the grim can roam freely and spread horror. For some, the moon entails a heavy feeling of fear but the real ghastly event would be the day when the moon is no longer there to act as the colossal spotlight that it really is.
But what lies outside our green and blue planet is still unknown. There are studies, yes, but how much of that vast space have they discovered? Who can really foresee the shift of the universe? All these abysmal thoughts surfaced in my head was seriously brought up by an application called Paper Galaxy. How weird it is that a simple game can make you realize things that you haven't been taking too much notice before? Read this iOS app review for more information about this app that's fun and eye-opening—well, as for me.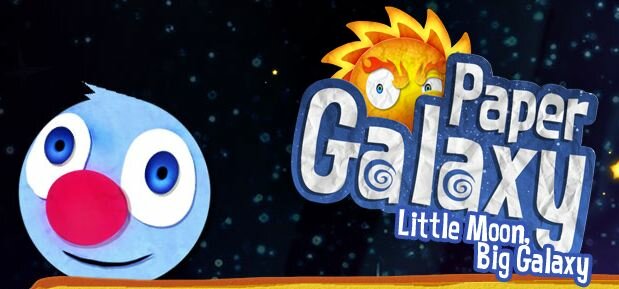 The application exudes that specific aura that it's mainly for the entertainment of kids. You can categorize it as such but as soon as you get your hands on it, trust me, it's hard to let go. If it's not only for the sake of doing this app review, I might as well play the game for the rest of the day. Kidding! On a serious note, I do see myself getting addicted with Paper Galaxy for weeks or even months. But one thing's for sure, I wouldn't want its premise to happen in real life.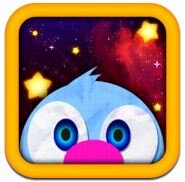 Paper Galaxy developed by Liquid Entertainment is a tap to release endless runner game with a wayward moon to help out. Luna, the precocious moon, is lost in the vast outer space in search of her way back home to Mother Earth. Control her by means of a tap to catapult her upward while collecting as many stars as you possibly can. Be careful though, it's not just planets out there because other space entities can take Luna's precious time while she runs toward home as Crab Nebula follows her every move, determined to catch her.
Sneeze Luna, sneeze!
Here's the deal, Luna is the Earth's moon. Since every soul is already asleep when she appears, she has no one to play with when her energy is in its peak. Suddenly, a glowing hypnotizing cosmic butterfly passed through Luna's curious eyes. Ergo, she followed the little thing around but her nose got the best of her, she sneezed her way out of her original orbit and ended up in a frowzy portion of space where the scary-looking Crab Nebula is residing. Your main goal now, the player, is to guide Luna out of that dubious place and take her home safely to Mother Earth. But it's not going to be easy.
By tapping anywhere on your screen, you will make Luna sneeze which makes her rocket out of the different orbits of the friendly planets she'll meet.  Each planet has a gravitational pull that when Luna touches them, she'll fall into their orbit. It's not a bad thing because the friendly planets contains three stars or more, depending on their type. The moment Luna gathers all the stars available in that planet, you can tap again to make her sneeze her way goodbye. Be wary that you won't have much time to let Luna gather all the stars in a planet because right at your tail is Crab Nebula which only has one goal: to capture our adventurous moon.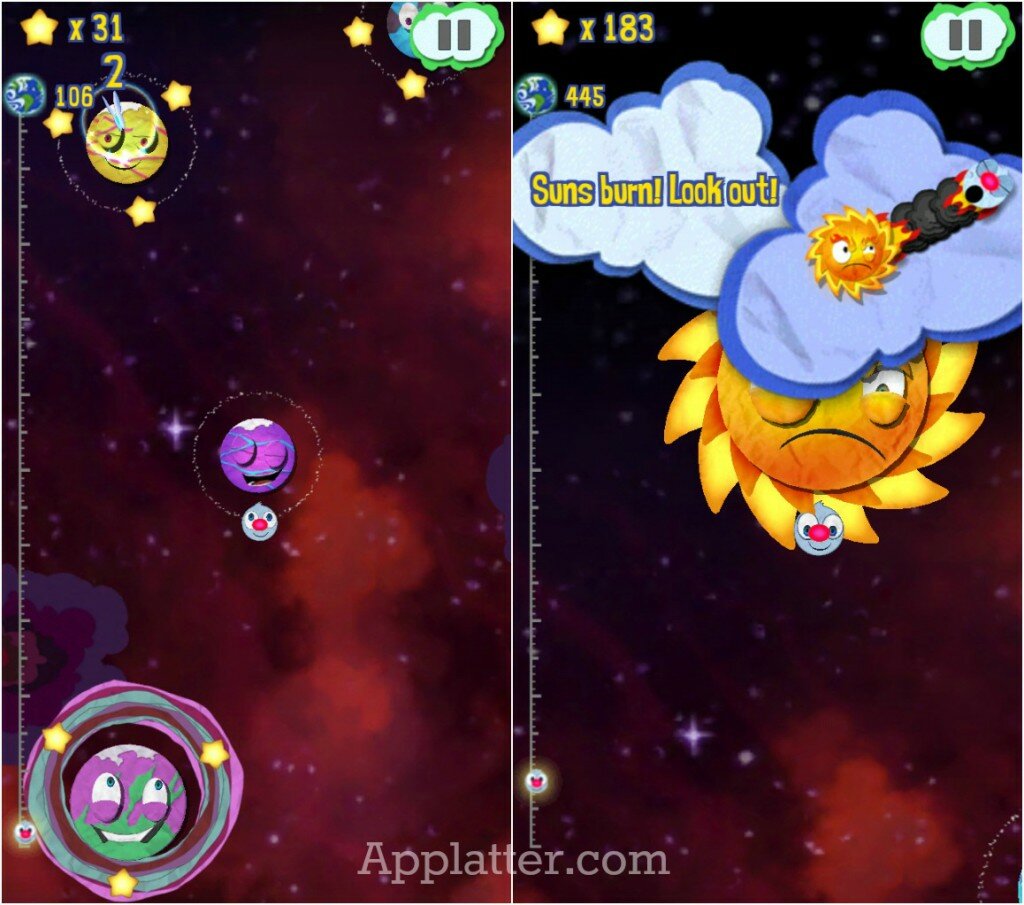 Plus, don't just tap away because it will be more effective if you have a great timing on catapulting Luna upward. When she's traversing on an orbit, wait for her to reach North then tap. This gives her a straight forward push which in return, gives both of you a good distance away from Crab Nebula. But do remember to avoid the Sun and the black holes. Once Luna gets in contact with the Sun, she's gonna be a comet heading for the opposite direction while the black holes will temporarily hold her back.
On the left side of your screen, you see a meter with Luna's face as the indicator. With this, you can see how far off you are to Mother Earth. After a few minutes of game play, Crab Nebula will appear on the meter which can tell you how close he is to capturing Luna. Better look at the meter occasionally to avoid being caught!
Other Worldly Features
As seen on Paper Galaxy's Press Release
Family Friendly. A heartwarming cast of paper-cut characters, a charming soundtrack, and a simple tale of finding your way back home make Paper Galaxy perfect for players of all ages!
One Tap Gameplay. Playable with one hand. Easy to learn but challenging for all skill levels.
Highly Replayable. A procedurally generated galaxy ensures a new journey each time you play.
Multiple Modes. Finish Story Mode to unlock endless Frolic Mode and see how far you can go!
Rewarding. Earn 100+ upgrades and complete 100+ goals. Track all-time best performances.
Social. See how you measure up against your friends on the leader boards! Your friends' best distances also appear on special Social Planets during your game!
Game Center Integration for iOS. Over a dozen Game Center achievements and leader boards.
Harrie The Luna-Lover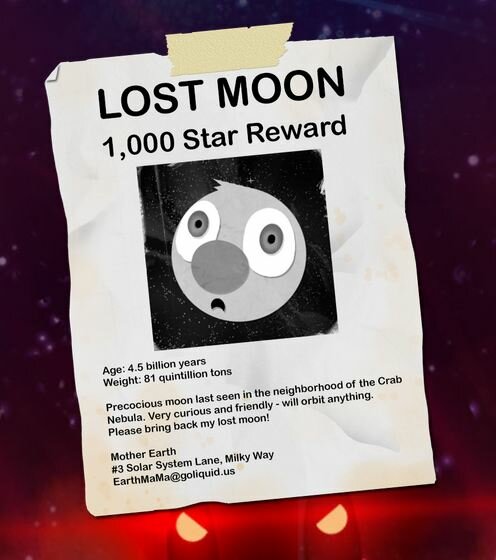 There are only a few applications which makes me ponder on various circumstances that seem mundane but have great value to me. Definitely,  is one of those applications. The developers did a splendid job on every aspect of Paper Galaxy starting from the supporting story line up to the last detail of the illustrations. What started out as an experiment by the employees of Liquid Entertainment turned out to be an application worth the download and the money. For $1.99, you can have on your iOS devices. It may only be me that transformed into an emotional geek by playing this game but I'm sure everyone that'll try this application would have a great time making Luna sneeze her red nose across the universe.
It's a game for the entertainment of the whole family. The game play is easy to understand and it's a perfect tool to while away your time or if you're searching for one of those apps that will have you glued to your device for hours! It may even teach your kids not to wander far away from home or they'll end up like Luna. Okay maybe that's too morbid of a joke but hey, at least there's something to learn from it!
To all moon-starers, watch the trailer of below and check out how Luna jumps from orbit to orbit:
Harrie Sade
A caffeine-dependent power tripping damsel who loves murdering keyboards, her shabby photography, and the rain.
Latest posts by Harrie Sade
(see all)